As my generation hits retirement age and we leave the system, it looks like the government and the anti-public education zeolots have succeeded in demonizing teachers so that very few people want to enter the profession.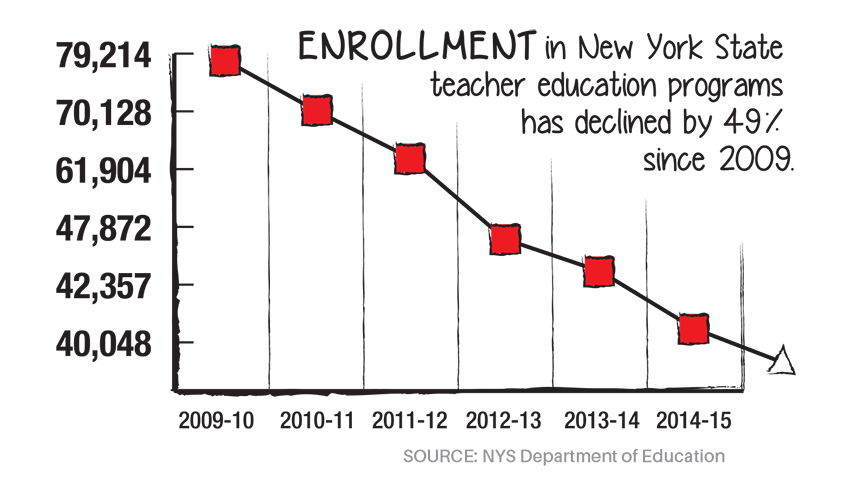 As this
NYSUT article
makes clear, there is already a teaching shortage in certain certification areas.
From NYSUT:
In November 2013, SED [State Education department] reported the following statewide teacher shortage areas between 2010 and 2014: bilingual education, chemistry, CTE, earth science, English language learners, Languages other than English, library and school media specialist, physics, special education, special education – bilingual, special education – science certification, and technology education. In New York City, SED identified shortage areas that include the arts, biology, chemistry, CTE, English, health education, library media specialist and mathematics.
English is a shortage area in NYC?
As conditions in the classroom continue to deteriorate, the shortage should worsen unless there is another economic upheavel.
The answer from the SED and Regents will probably be to put in more alternative certification programs to make sure classrooms are covered. Classes will be filled with less qualified teachers.
Honestly, if a young relative came to you and asked if he/she should be a teacher, what would you tell him/her?
My mom was a teacher for over 30 years and was truly supportive when I told her I decided to teach. However, I don't see myself reacting with much enthusiasm if one of my own kids told me he or she wanted to pursue a career in the classroom.