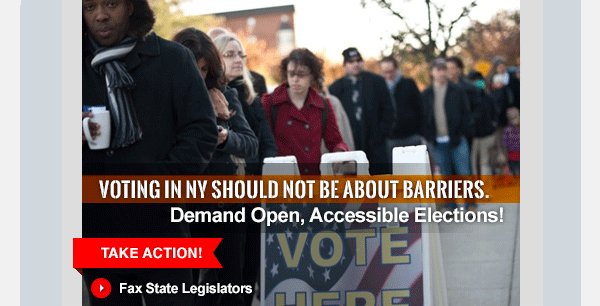 This wonderful NYSUT tweet is about making voting in elections easier for citizens. However, when it comes to union elections, it's not about easy access to the polls, it's about barriers.
Most of the state Unity Caucus, including the huge UFT contingent, voted against a constitutional amendment that would have allowed locals across the state to vote in their own election districts in NYSUT elections rather than having to make the trip to New York City to cast a ballot.
The majority of the locals in the state did not send anyone to vote in the NYSUT election last month. Many of the small locals cannot afford to send representatives to NYC where the election is held.
NYSUT demands open, accessible state and national elections while putting up obstacles for union elections.
The hypocrisy is there for all to see.
This is no big surprise as elections are truly about obtaining or maintaining power for too many people who run for office in unions or government.
That is a sad state of affairs.
It's up to the people, or in the case of the unions the membership, to keep their leaders honest.
After reading the comments from
yesterday's post
, it is clear to me that many UFT members are planning on sending a message fo the leadership by leaving the union as soon as the Supreme Court allows them to stop paying dues. That is scary. Even a weak union is better than none.
Teachers for sure need a union.